Antelope Sprinkler Repair Services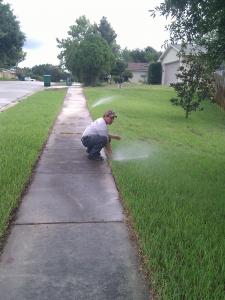 Let's talk about your lawn. It's not as green or vibrant as it should be. This isn't because you don't have a great sprinkler system, it's because your system isn't working the way it once did. Sprinkler systems need regular maintenance to do a great job. Our Antelope sprinkler repair techs specialize in optimizing your current system in a way that will make your lawn glow like it used to. We can even help your lawn get a jumpstart with direct infused fertilizer. This technique, called fertigation, infuses a liquid based plant food into the irrigation lines so it can be delivered evenly over the expanse of your yard. We also offer chemigation products like weed controllers and grub killer that can be delivered in the same way.
Most of the reason you might be seeing changes in the effectiveness of your system is because your landscape changes over time. Plants grow and grass thatch rises. Pop up heads that were properly calibrated several years ago might be spraying directly into the thatch and not reach the plants as they once did. We have the solution – simply switch out the risers on your existing system. Most sprinkler heads are set on 2-inch or 4-inch risers. We can put in new ones that reach between 6–inches and 12-inches. Problem solved.
Of course, not all sprinkler repairs are that easy. Our antelope sprinkler repair contractors usually are called in when there is an ambiguous "something" wrong with the system. That's okay. We're super-sleuths. It doesn't matter if you have a torn diaphragm in your valve system or a poorly programmed controller, we'll go step by step to find the problem and get it fixed. Our systematic approach allows us to diagnose and repair irrigation problems quickly and efficiently, without digging up your yard. We use electronic leak detectors and in line CCTV cameras to find underground leaks and blockages.
We Cover Residential Sprinkler Repair in Antelope CA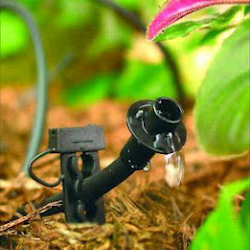 Our Antelope sprinkler repair techs work on both residential and commercial irrigation systems. No job is too big, no job is too small. We've built drip irrigation extensions for specimen plants and re-routed entire commercial zone systems.
We pride ourselves on treating every customer with respect and the best of the best service – guaranteed, no matter what you need.
Our Irrigation Contractors Come Fully Equipped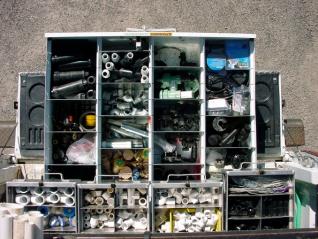 When you hire a sprinkler repair company, you want one with experience. Learning from a book is fine, but actual on the job experience is not duplicable. Our techs have real-world experience working with systems by Hunter, Toro, RainBird and other major brands. In addition to experience, we also have the latest industry tools. Our trucks are stocked with thousands of name brand replacement parts and ready to go right now. Whatever irrigation problem you are having, we've got the solution. Call us now!

Looking for a great plumber in Antelope that you can depend on for quick emergency plumbing repairs, larger plumbing installations, and everything in between? You don't need to look any farther than Antelope Plumbing. We're also happy to recommend North Highlands Roofing for your roof repair, installation, and gutter service needs.